For the Latest News & Recipes from Johnny:
Johnny's Upcoming Shows

Thank you for your interest in Johnny Contardo's live performances in 2023! 
 
Currently, Johnny is performing at private events, but he is scheduled to perform publicly at confirmed shows from December 2023 - February 2024...  Please check back soon for all the details!

Confirmed shows with exact dates forthcoming:
* Ruth Eckerd Hall - Clearwater, FL - December 2023
* Bowzer's Rock 'N' Doo-Wop Party Volume XXIII - Mohegan Sun, CT - January 2024 
FOR THOSE INTERESTED IN PRIVATE CONCERT BOOKINGS
OR PERSONALIZED SINGING REQUESTS FOR SPECIAL OCCASIONS

PLEASE EMAIL ALL REQUESTS TO:  johncontardo3@gmail.com 
"Those Magic Changes" - From the Movie "Grease"
"GREASE" 45th Anniversary Radio Interview - May 15, 2023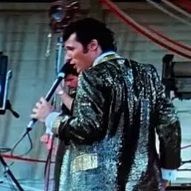 Johnny joins host Michael Patrick Shiels on the "Michigan's Big Show" statewide syndicated morning radio program to discuss filming "GREASE" during three days off from a Sha Na Na concert tour (and John Travolta's nice compliment); recording, "Those Magic Changes," for the movie soundtrack; and the adventures of being the lead singer of Sha Na Na before and after the film -- including the band's billing with John Lennon and Yoko Ono at Madison Square Garden. Great vocal insights from this greatly talented -- and still performing -- Vocal Coach with a lifetime of experience!

Click Here for Johnny's Interview with Michael Patrick Shiels on the "Michigan's Big Show" morning radio program, 5/15/23
Johnny Contardo Radio Interview with Rick Michael - August, 2020
Playlist: Romantic Ballads Sung By Johnny Contardo